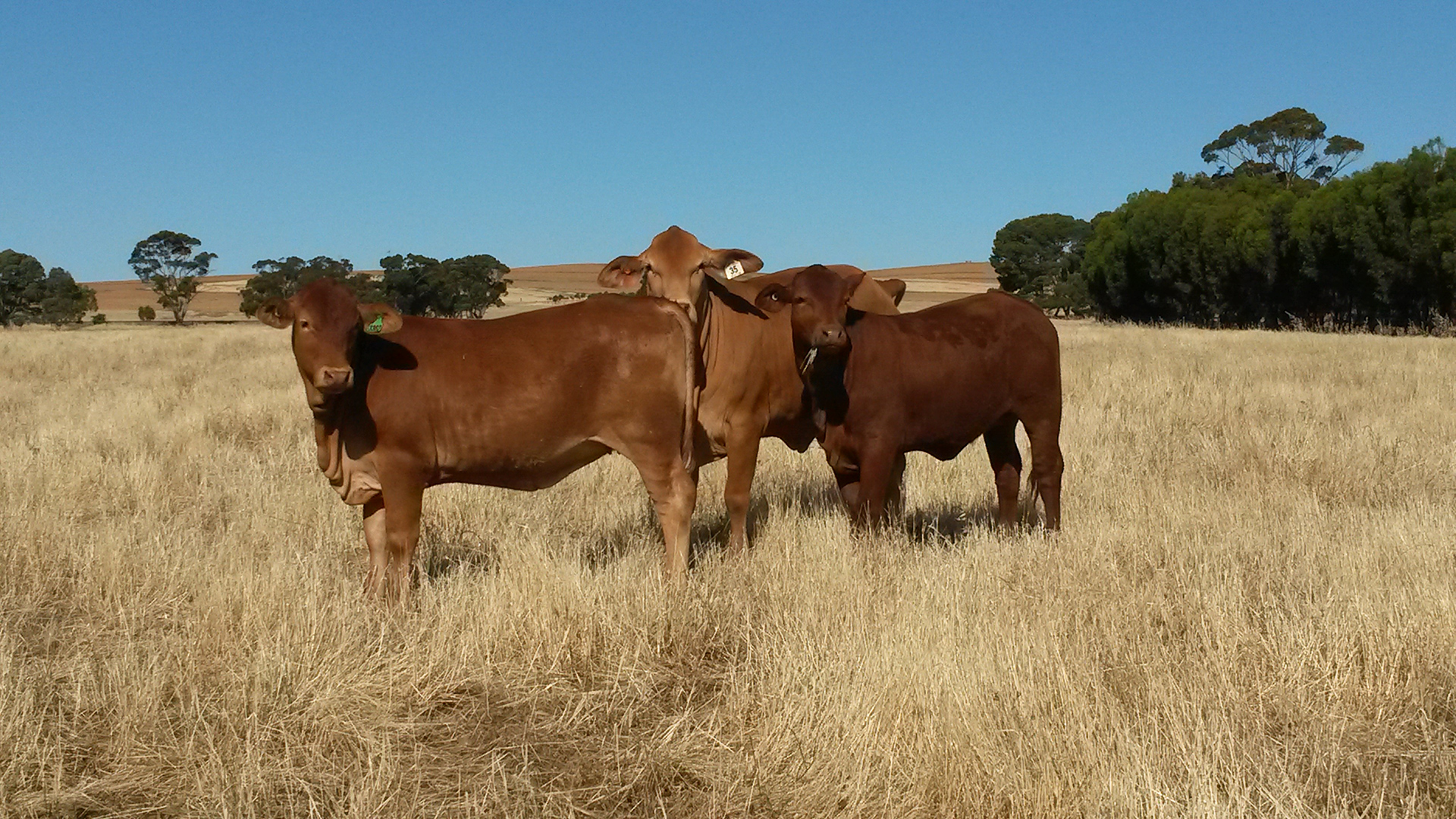 The South Devon is a British Breed, originating in a very fertile area of South Devon in England.
The breed was originally known as the "South Hams" from the late seventeen hundreds until eighteen ninety one (1891), when a breed Society was formed and for reasons unknown the name was changed to South Devon. Since this period the Devon and the South Devon have been very distinctive breeds.
Through the twentieth century until the early seventies, the South Devon was known as a triple purpose breed: milk, butterfat and beef and it was the very high quality milk that the mostly small herds in Devon and Cornwall depended on for their income. It was also about this time that the South Devon was introduced to Australia and New Zealand. Records show that South Devons were shown at the Melbourne show from 1908 to 1920
The South Devon is the largest of the British Breeds (although we are moderating them) and the quietest. Besides its outstanding growth potential, the South Devon has the ability to put on meat without excess fat. As well as being an excellent terminal sire, the mothering ability and ease of calving and early maturity are all great assets of this breed. The South Devon has one unique trait that is very uncommon for most British Breeds that is it is very tick resistant.
The South Devon is a very "middle of the road" breed, ideally suited to take advantage of various markets especially when used in planned crossing programs.
The South Devon we breed for will be – an easy calving (no calf kept over 45kg), easy doing, good tempered, fertile animal that shows a lot of capacity – both in the meat it houses and throughout the body, length, medium frame and the willingness to perform under differing conditions – South Devon's advantage.
Black South Devon
We have pursued Black South Devon's importing semen from the USA. Breeders in the US have done all of the hard work upgrading from an Angus base. The US South Devon is very different to the British. We like the US type for their moderation but no compromise on carcass.
Black South Devons are complimentary to British, Euro and Bos Indicus breeds. Remember the "Free Lunch" – hybrid vigour.
A black South Devon bull over an Angus cow is great cross as proven in the US –
black coat and British look maintained
increased weight
increased EMA
increased yield
IMF maintained.
Increased Profit
We feel they offer a tremendous opportunity to the beef producer. The Black South Devon is an alternate "Polled Black British" breed. As a crossbreeding option, they will be ideal as an alternate Black sire for hybrid vigor, F1 females are maternal machines.
Don't discount the enormous opportunity the Black South Devon presents.